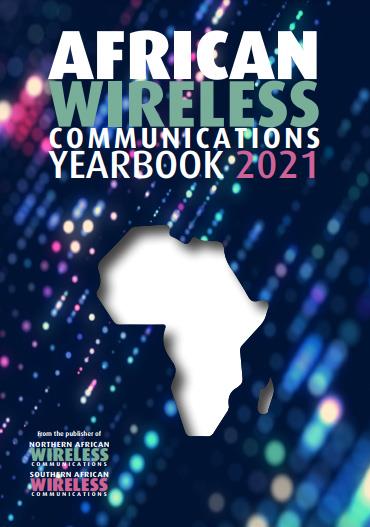 Download the complete African Wireless Communications Yearbook 2021
(Large file size: 35MB)
African Wireless
Communications
Yearbook 2021
Are you doing Business in the African Wireless Communications marketplace?
Are you running a wireless communications network in Africa?
The African Wireless Communications Yearbook 2021 is the definitive guide to Africa's wireless landscape and includes a review of the African year, exclusive interviews, crucial statistics and a comprehensive technology Buyer's Guide.
Download by chapter below

These PDFs are protected by international copyright laws and are for reference only. The files and contents may not be publicly distributed or reproduced in part or in whole, including photocopying, scanning and/or recording, or transmitted in any other form by any means including electronic, digital or mechanical, or stored in any form of data storage, archival or retrieval system, without the prior written permission of the publisher and copyright holders. All enquires should be sent to Kadium Limited, Image Court, IC113, 328/334 Molesey Road, Hersham, Surrey, KT12 3LT, United Kingdom. The views expressed in this publication are not necessarily those shared by the publisher or the editor.
Although great care has been taken to ensure the accuracy and completeness of the contents of the African Wireless Communications Yearbook 2021 ('the publication'), neither Kadium Ltd nor Kadium Publishing (Pty) Ltd, or its agents, accept any legal responsibility for the information and the opinions expressed in this publication. The publisher will not accept liabilities for any losses incurred, direct or otherwise, as a result of using the data in this publication for any purpose whatsoever. Use of the material in this publication is done so at your own risk. E&OE. © Kadium Ltd 2021